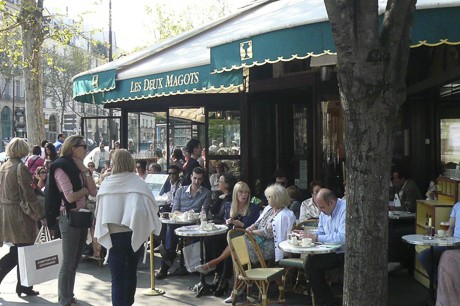 Visiting Paris
An Introduction to Visiting Paris
This is a very personal introduction to exploring and discovering Paris, the City of Light. It is aimed at the confident traveller who prefers the freedom and sense of adventure that comes from exploring a destination at their own pace. This usually means taking the local transport to different parts of the city, walking, and not being too timid to ask a local if completely lost—which in itself can be a great excuse to strike up a conversation with locals and fellow travellers, and a perfect way to discover a city's delights and oddities.
Getting In – Getting Away
Private Taxi Transfer
We can offer a pre-arranged private taxi transfer service to and from our apartments to either Paris Charles de Gaulle or Orly airports. This is not a shared shuttle. Your driver meets you as you exit Customs into the Arrivals hall. He will be holding a little sign with your name, and whisks you directly to the apartment in a comfortable, air-conditioned vehicle. The charge is a flat fee, payable directly to the driver.
Roissybus from Charles de Gaulle Airport
The Roissybus direct from Paris CDG airport goes to, and leaves from, a couple of city destinations such as Place de l'Opera.
International Trains
Departing from or arriving into Paris by Eurostar: These trains arrive and depart from the Gare du Nord. Follow the Taxi signs to the taxi stand just outside the terminal in a side lane.
Getting Around Paris
Finding Your Way Around The City
If you really want to explore the city in any depth, you will quickly realise that one of those single page free maps is not going to be much use. We suggest that you invest in a compact street directory ("un répertoire des rues"). Penguin produce an excellent bag-size street-finder for many cities including Paris, called 'The Paris Mapguide'. It will give you the confidence to strike out and explore previously-unknown neighbourhoods.
Paris Taxis
Taxis are best caught from a taxi stand, which are usually near metro stations and at all the big central railway stations.
Paris Metro Tickets
The Paris metro system is brilliant. It's fast, cheap, frequent, and one ticket can take you anywhere in the city's system. You can purchase a collection ('un carnet') of ten metro tickets at any metro station, usually from an automatic, multi-lingual machine but still occasionally from a person at a ticket window. Carnet tickets are also valid for buses and the new outer-rim tram system.
The Paris Navigo Découverte Pass
The Navigo Découverte public transport pass for the metro, buses and light rail tram is a "smart card" that can be purchased for a €5 fee on top of the regular weekly pass prices.
The Navigo Découverte is sold at any ticket window that normally sells tickets and passes for the Metro, RER, Ile-de-France trains. You'll need a small, passport size photo to be used on the pass. There's nearly always a photo booth nearby ticket windows at major stations. The photo is attached to the pass.
The pass validity starts on Monday morning, and ends the following Sunday. If you happen to be arriving mid-week and intend to be out and about on the Paris transport network it is probably still worthwhile, if only for the convenience. It is also valid for the buses—with a carnet ticket you need a new ticket for each change of bus. Topping it up for the next week is very simple, via the automatic, multi-lingual machines, and if you run into difficulties doing this, metro personnel are usually quite willing to help visitors. Don't throw away the pass when you leave because it can be re-loaded—so save it for your next visit to Paris.
Paris Buses
The buses are great if you prefer to see the scenery. Bus route maps are displayed at every bus stop as well as along the sides of the bus. Remember to get on at the front and off in the middle. The Navigo Pass is also valid for buses.
City Orientation Tours
A great way to get an overview of the city is to buy a "hop on hop off" bus ticket, valid for one or two days, from 'l'Open Tour' or 'Les Cars Rouges'. Both these companies cover the main tourist sights, and buses stop at each designated stop every 10 to 30 minutes. This is a great idea, since you see the sights at your own pace. Tickets are purchased on the bus, and the pass shown to the driver each time you board the bus. The buses are equipped with personal earphones for the commentary in your language. www.paris-opentour.com or www.lescarsrouges.com
There are also leisurely hop on/hop off glass-roofed shuttle boats called the Batobus that ply the Seine. They stop at about eight prominent Paris landmarks, including Notre Dame, and operate all year round from about 10.00am daily.
City Sightseeing
L'Office de Tourisme
Located in the underground shopping area beneath the Louvre Museum, known as the Carousel du Louvre. There are also branches at major railway stations. www.paris.fr
Sightseeing Pass
'Paris Visite' transport cards can be purchased from most metro stations. These travel passes are valid for metro, RER, buses, and entry into some museums and attractions. www.parispass.com
There's now also a two-day sightseeing pass, called 'Paris a la Carte' that combines both l'Open Tour bus and Batobus boat trips on a hop-on/hop-off basis over two consecutive days. The 58 stops mean that you can plan your itinerary around the city as you wish with great flexibility. Obtainable at La Boutique de l'Open Tour, 13 rue Auber, 9th arr., the Office de Tourisme de Paris, 25 rue des Pyramides, 1st arr., or any of the Batobus stops. www.parislopentour.com
City Sightseeing Tours
If the idea of trying to see the city from a very large coach doesn't appeal, consider a tour by minibus, or even a Citrően 2CV, such as those operated by Paris City First. www.sightseeing-tours-in-paris.com
Paris From The Water
If your feet need a rest for an hour or so, consider a cruise on the Seine, which gives quite a different perspective of the city. Boats such as Bateaux Parisiens, depart from the foot of the Eiffel Tower hourly from 10.00 am until late evening. www.bateauxparisiens.com
One of our favourite things to do in Paris is take a leisurely trip along the Paris canal system, the Canal St-Martin. The boats depart from the Port de l'Arsenal on bvd. de la Bastille (nearest metro: Bastille) and cruise along the canal, going through four locks, which is a fascinating experience, passing under various footbridges and along tree-lined banks, ending up at the Parc de la Villette (or vice versa). The trip takes about two and a half hours, and operates all year round, and shows you an aspect of Paris that many visitors miss. www.pariscanal.com
Paris On Wheels
As everyone knows, the French are mad keen cyclists. What started out as a somewhat radical anti-vehicle protest movement is now a hugely popular mainstream community activity to "reclaim the streets". Every Sunday for a few hours certain roads are blocked, or least traffic temporarily halted, while thousands and thousands of Parisians of all ages take to their bicycles and ride, en-masse, around the city. It's quite a sight. If you intend to drive in to Paris on a Sunday, be warned of potential delays.
To encourage people to reduce their use of vehicles, the green-minded city administration introduced a system of city-owned bicycles known as 'Velibs' (Vélo liberté = Freedom bike). The system allows pick-up from one bicycle depot and drop-off at another. With approx. 20,000 bicycles at 1,450 self-service Velib stations, the system has become enormously popular with Parisians, and visitors are fast catching on. A similar programme, 'Autolib', allows you to pick up and drop off a small, electric car at over 500 locations throughout the city. www.paris.fr/autolib
For a completely different sightseeing experience, you can also tour Paris by bicycle. There are a couple of bike tour companies, such as Paris Bike Tours—for details, go to www.parisbiketour.com
For something completely adventurous, consider seeing Paris on roller blades! . For information about routes and meeting spots, go to: www.parisinfo.com
"Paris On Foot" (Guided)
Another great way to see Paris is to take a walking tour with a guide who really knows the city. Visit their website for precise details of their various offerings: www.WalksOfParis.com
Eating
The problem is too much choice! The most cost effective way to eat out is choosing the Menu Prix Fixe. Even locals use them. Offering usually three or at least two, courses for a set price, even many rather upmarket restaurants offer a prix fixe menu, enabling the visitor to enjoy very good food at a price not possible on the a la carte menu. As good wine is relatively inexpensive, buy something really decent that would cost a fortune at home.
There are a number of nice, atmospheric little bistros and eateries all over Paris. Some of our favourite eating areas are the rue Mouffetard neighbourhood, Ile St Louis, and the Marais, while rue de Bretagne in the Upper Marais is emerging as a great food area. You'll find plenty of authentic, inexpensive, good value restaurants in these neighbourhoods. There are little gems hidden all over the city and sometimes in the most unexpected places, such as the courtyard restaurant at the Paris Mosque, opposite the Jardin des Plantes.
One of the many advantages of staying in an apartment is the ability to explore a whole new world of enjoying the best food that Paris has to offer. There is a bewildering range of wonderful quality produce available from breakfast croissants and baguettes still warm from the oven, little gourmet takeaway shops (traiteurs), outdoor markets, and even neighbourhood butcher shops who make their own pâtés and terrines, and of course the innumerable patisseries found in every part of the city.
On a warm summer's evening, take a picnic down the stairs by the edge of the Seine near Notre Dame and Ile St Louis. Although of course, a well-equipped apartment will have all the essentials, don't forget to pack a sharp knife and bottle opener (but NOT in carry-on luggage!) for picnics on trains or touring by car.
Department Stores
The "big two" are Galeries Lafayette and Printemps in bvd Haussmann. Even if you don't want to buy anything, a look inside Galeries Lafayette to see the superb interior and into Au Printemps to see the enormous, wonderful stained glass dome is essential. Au Printemps has good rooftop cafe on 6th floor for lunch–good spot to admire the dome.
Galeries Lafayette has a fantastic homewares store, Lafayette Maison, across the street in a former bank building, at 35 bvd Haussmann, corner of rue Scribe. This store also has a very nice café complete with footpath seating.
However, one department store we absolutely love, and in many ways prefer to the abovementioned two, is Bon Marché on the left bank on rue de Sevres, just near metro Sevres Babylone. It's quite small in comparison to the Big Two, but very stylish; carrying a lot of designers you won't have heard of. Few tourists know Au Bon Marché, so most of the customers are Parisian. Closed Sundays.
Flea Markets and Arts & Crafts Markets
Le Marché aux Puces: The best known of the Paris flea markets is also in the 18th arrondissement, the Saint-Ouen, or Clignancourt, market. This enormous market has bric-a-brac, antiques both real and made yesterday (buyers beware!). The seven hectares of the market is divided into sections specialising in different categories. Antiques can include furniture, posters, and general decorative items—some of the vendors are very high class indeed with prices to match. Brocante covers items that are second-hand and not necessarily antique, which some cynical souls might classify as junk. Operates Saturday, Sunday and Monday. Metro: Porte de Clignancourt or Garibaldi.
Parisians also to go to the smaller flea market just near the metro station Porte de Vanves in the 14th arr. Go to the Pte de Vanves market on a Sunday morning. Bargaining is perfectly acceptable.
If you're looking for something pleasant but not too arduous to while away a few hours on a sunny Sunday, consider Le Marché Parisien de la Creation, an arts and crafts market held every Sunday at the foot of the Montparnasse tower building in the 14th arr., between rue du Départ and rue de la Gaîté, along bvd Edgar Quinet. About 100 artists exhibit and sell their works, ranging from painters, sculptors, engravers, photographers and collage artists. Metro: Edgar Quinet.