Le Gourmand du Maubert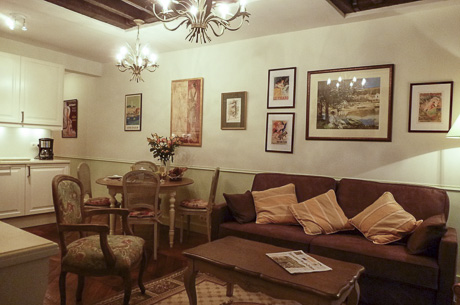 Le Gourmand du Maubert is a luxurious, one bedroom apartment that sleeps four adults. It is on the first floor of an historic Haussmann-era residential building of the mid 19th century. The building has an elevator, as well as a gently curving, wide staircase for easy access. The apartment is light and bright, and as its windows look onto two internal light-well courtyards, it is very quiet, being shielded from any street noise.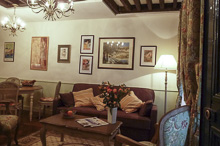 Located in the 5th arrondissement, on the Left Bank, just steps away from the river Seine, opposite the Ile St Louis. Notre Dame Cathedral is barely a five minute walk. One of the great landmark restaurants of Paris, Le Tour d'Argent, is just across the street from the building's front door.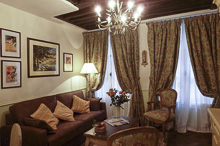 Nearest metro station is Maubert Mutualité (Line 10), is a 5 minute stroll away, and there are a number of useful bus lines servicing the neighbourhood, making the entire city easily accessible.
"We are sorry to leave 'our home' in Paris. The apartment has welcomed us back each day after a full schedule of just being here in such a diverse and rich city. We have really enjoyed our stay here and appreciate your attention to detail in catering for our comfort. We can't wait to return." Ronni and Steve, Buderim, Qld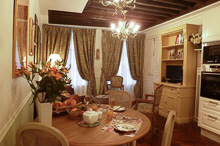 Adding to the riverside promenades along the Seine, the Jardin des Plantes and the Luxembourg Gardens, just a few minutes' away, are also perfect places to relax. As the Boulevard St Germain is around the corner, a pleasant 10 minute stroll will take you to all the shopping delights of St Germain des Pres—although how long it will take to get there depends on how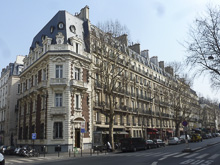 often you stop to window shop and admire all the interesting sights along the way. You may decide to detour into the Musée de Cluny to see the remains of the Roman baths, explore the wonderful collection of medieval art and artefacts such as the exquisite 'Lady and the Unicorn' tapestries.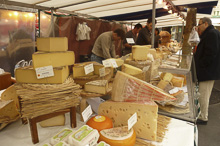 Located at Place Maubert, is an excellent outdoor market held three mornings a week on Tuesdays, Thursdays and Saturdays, grouped around the metro entrance. Here you will find the freshest farm produce and other gourmet delights from vendors selling anything from artisan honeys, sauces and vinegars, to a selection of fresh and dried herbs from Provence. As well as this regular market, there are a number of wonderful food shops such as the fromagerie, said to be one of the best in Paris, a butcher, a fishmonger, and a first class wine shop, while the long queues outside the patisserie is testament to their quality breads and pastries.
There are a number of small supermarkets nearby for your daily needs, and the nearby rue Monge also has any number of excellent food shops to explore. The immediate streets near the apartment all have a number of small, local bistros ranging in price from elegant restaurants perfect for a special celebration, through to brasseries and cafes full of locals enjoying the house-made plat du jour and a bottle of inexpensive wine. The Île St Louis, just across the river from the apartment, has numerous shops, such as a branch of Oliviers & Co., that sell a wide variety of restaurants and shops selling gourmet treats. Berthillon, arguably the most famous ice cream maker in Paris has at least three shops on the island.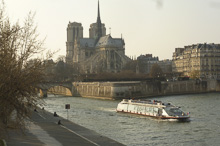 "Excellent location, beautifully appointed apartment. Can't recommend highly enough." Sally and John, Melbourne Vic
On warm evenings you can join hundreds of locals enjoying a picnic on the banks of the Seine, just a few steps from the apartment, and watching the tourist cruise boats float by.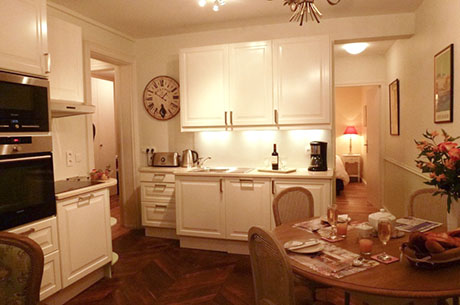 Le Gourmand du Maubert is well equipped with everything you will need to take advantage of all the wonderful fresh market produce or delicious ready-prepared goodies ranging from easy, casual meals through to multiple courses for a fabulous dine-at-home gourmet feast.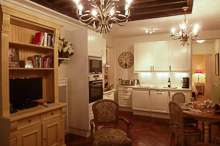 The kitchen has a microwave as well a conventional oven, four-burner hot plates, dishwasher and refrigerator. There is a full range of glassware, crockery and good quality pots and pans, utensils, serving bowls and plates, as well as an assortment of table linen.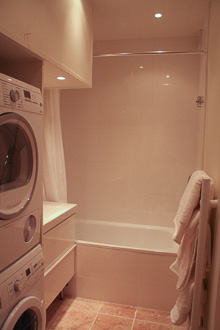 The bathroom is accessible separately to both the occupants of the bedroom as well as those using the sofa bed. It has a shower over the bathtub, a heated towel rail and a hairdryer, plus a washing machine and a clothes dryer. The WC is separate from the bathroom and has its own hand basin and mirrored cupboard. Both the bathroom and toilet are well supplied with quality bath and hand towels.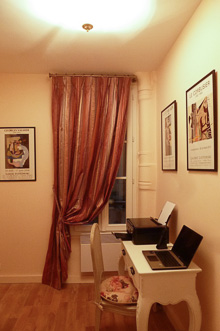 There is a small, separate bureau which can be used as a dressing room for those using the sofa bed, and furnished with a wardrobe, desk, chair, a printer for guests' use, plus an iron and ironing board.
The elegantly furnished bedroom has a king-size bed which can be separated into two generous twins, all with high quality bed linen. There is a wardrobe, desk, chair and wall-mounted TV.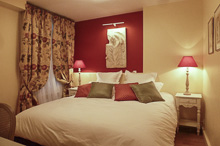 A major highlight of the apartment is the free WiFi, cable TV with a huge selection of channels, including some in English. Most importantly, you can make FREE local and international telephone calls to land lines.
Attractions on your door step include:
The whole of central Paris…
The river Seine is just steps away, Île St Louis is opposite, while Notre Dame Cathedral and Ste Chapelle are a short stroll along the river. The shopping delights of St Germain des Prés are barely 20 mins on foot; Museums including the Cluny, Louvre, Quai D'Orsay and the Institut du Monde Arabe, while the Jardin des Plantes, the Luxembourg Gardens and the Pantheon, are all within easy walking distance.
"Really lovely stay in a great apartment. Everything you need and a top location. Your Guide to Paris in the apartment is really handy and we to lots of cool places." Paul and Amy, Sydney, NSW