Local Food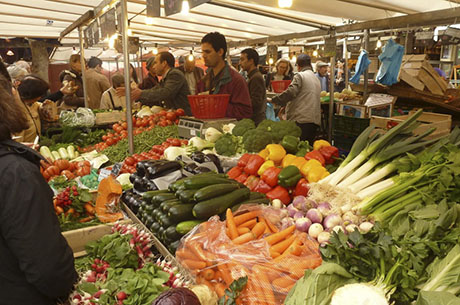 One of the main attractions of the neighbourhood is the very popular outdoor market held three mornings a week (Tuesdays, Thursdays and Saturdays) at Place Maubert, grouped around the metro station Maubert Mutualité. The wide variety of the highest quality fruit, vegetables and produce from small, artisan producers is astounding. As well as the regular market, there are a number of wonderful food shops such as the fromagerie, said to be one of the best in Paris, a butcher, a fishmonger, and a first class wine shop, while the long queues outside the patisserie is testament to their quality breads and pastries.
On market days there is a young man selling beautiful mustards and oils, and another family come up from Provence to sell their own fragrant herbes de Provence and unfiltered olive oils. As well as fresh produce, there are other vendors selling everything from beautiful pashmina shawls to super-sharp kitchen knives. After an hour or so exploring the market, you will readily understand why we have called the apartment Le Gourmand du Maubert.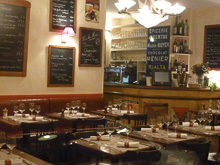 As well as the market there are permanent shops at Place Maubert selling a wide variety of delectable gourmet goodies. The fromagerie is said to be one of the best in Paris; there is an excellent fishmonger and butcher, a wine shop and greengrocer, and who could resist the temptations of the patisserie?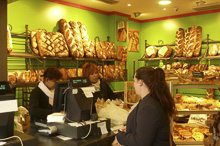 A few minutes' walk up nearby rue Monge will take you to Eric Kayser patisserie where there is always a very long queue—a sure sign of exceptional quality, in a city where there is certainly no shortage of good patisseries! There is also an excellent organic (biologique, or simply "bio") food shop, a Greek deli, a fine chocolatier and a beautiful florist on Bvd St Germain.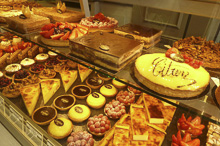 There are a number of good places to eat in the surrounding streets, but one of the most enjoyable things to do is to take a picnic down to the river, sit and enjoy the view and watch the river cruises glide by. We like to say that the banks of the Seine are the outdoor space of Le Gourmand du Maubert.