Nearby Attractions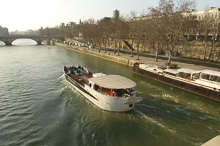 One of the most interesting areas in this neighbourhood is that of the rue Mouffetard, with its medieval character, and the surrounding streets. It is perhaps a 10 minute walk from Le Gourmand du Maubert, and is famous throughout the city as a food heaven.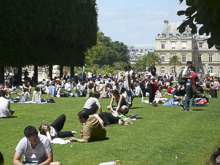 Starting at Place de la Contrascarpe, not far from the Pantheon head down rue Mouffetard you will find any number of cafes, bistros and restaurants catering to every budget and taste at the top end of the street. As you continue further down there is every kind of food shop imaginable. The lower part of the street is pedestrianised, making it a charming area where the visitor can truly experience the "real" Paris. Here you will find three or four fromageries, 2 butchers, fishmongers, patisseries, three wine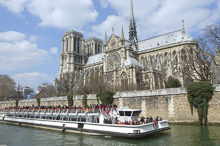 shops, any number of chocolatiers and other specialty food shops.
At the bottom of the street, outside the lovely little medieval church of St Medard, there are a couple of permanent outdoor fruit and vegetable stalls. In front of the church from late morning on Sundays every week, you will find a popular community gathering: an accordionist, a singer, and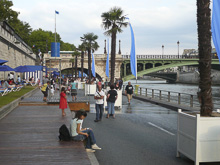 sometimes other musicians, playing traditional French street songs; the locals dance, and bystanders are invited to join them, or perhaps sing along with the singer—song sheets are handed out for everyone to join in.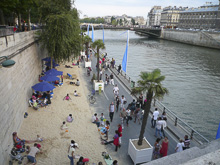 Aside from food, rue Mouffetard also has a number of interesting shops such as small, individual boutiques, bookshops, a well-regarded organic food and natural therapies shop, as well as branches of L'Occitane and Oliviers & Co.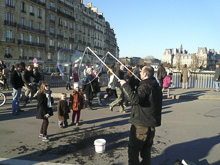 One of the best outdoor markets in Paris takes place near rue Mouffetard, at Place Monge (metro Line 7) three times a week: Wednesdays, Fridays and Sundays. People come from all over the city, particularly for the Sunday market, as it is renowned for the quality and variety of the produce. This market operates on alternate days to that at Place Maubert, and indeed, some of the vendors will be found at both markets.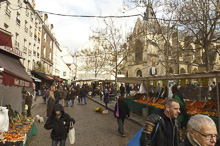 An easy walk from the apartment along Bvd St Germain, in the direction of the Odéon, will allow you to discover all the little streets en route, in particular the areas around the Churches of St Severin and St Julien le Pauvre—these two churches are venues for good quality, inexpensive concerts, so keep an eye out for the small advertising posters. Off Bvd St Michel you can wander into delightful streets such as St Andre des Arts and come out into rue de Buci, which is another outdoor produce market serving the St Germain des Pres neighbourhood. These delights can be explored in detail only on foot.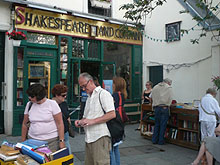 Shakespeare & Company bookshop. This is a Paris institution. A wonderful, treasure-trove in a ramshackle building filled with mostly second-hand books but also new and antiquarian books as well. They also have regular readings by writers and poets. It's a seductive place to while away many hours. It is located opposite Notre Dame, near the square of the Church of St Julien le Pauvre, at 37 rue de la Bucherie. Open every day from noon to midnight, it's not possible to come away from Shakespeare & Company without a purchase!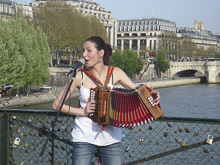 One of the great landmarks of Paris is the Panthéon, barely a 10 minute walk from the apartment. This imposing neoclassical building, whose design was based on the Pantheon in Rome, is easy to spot with its enormous dome on the hill overlooking the Latin Quarter. Its crypt is the burial place of those French citizens deemed to have made significant contributions to national culture and the wider world, such as Pierre and Marie Curie, Voltaire, Rousseau, Émile Zola and Louis Braille, to name just a few of the notables. It is open every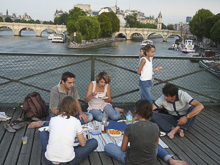 day (unless there is a State funeral or other official event), but note that since it is an historic monument, there is an entry fee of about 7 Euros.
A visit to Sainte Chapelle, on Île de la Cité is a must for any visitor to Paris. This exquisite jewel of Gothic architecture is nowadays almost crowded in by the vast complex that makes up the Palais de Justice (Law Courts). Completed in 1248, Ste Chapelle was built under the orders of Louis 1X to house relics of Christ, including the Crown of Thorns. As well as the breathtaking stained glass windows, every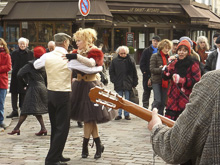 other surface was originally painted in rich colours depicting the lives of saints and martyrs, and a bright, starry sky on the ceiling. Today, it is recognised as one of the world's most beautiful historic monuments and listed on UNESCO's World Heritage List. There are regular evening concerts, so keep an eye out for advertising posters.