Le Gourmand du Mouffetard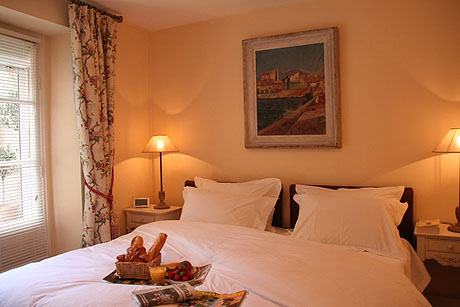 Our apartment, Le Gourmand du Mouffetard, located on the first floor of an historic building, enjoys left access and sleeps four adults. The huge rear terrace is a perfect haven to enjoy a leisurely breakfast, lunch or a relaxing drink at the end of a busy day. Your taxi can bring you right to the front door. The nearby Place Monge metro and excellent bus services give easy access to the whole of Paris.
Our week in Paris has been truly memorable. Your apartment is truly fantastic. The welcome booklet recommendations were spot on. We will be sure to stay again when next we visit Paris. Jayden and Morgan.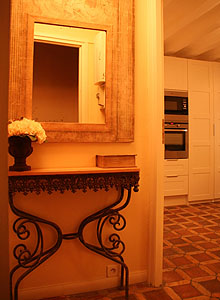 Le Gourmand du Mouffetard is located in the Latin Quarter, in the 5th arrondissement.  Rue Mouffetard is a medieval street although its history goes back to Roman times—there's even a Roman arena nearby.  The Jardin des Plantes, the Pantheon and Luxembourg Gardens are just a few minutes away, while it's a mere 10 minute stroll to the Seine, Notre Dame Cathedral and the Ile St Louis.  The apartment is just around the corner from the metro at Place Monge, where an outdoor market is held three days a week—Parisians come from all over the city to the Sunday market for wonderful fresh produce.
Rue Mouffetard is food heaven: one of the most famous in the city for the quality and variety of its specialty cheese shops, wine shops, gourmet butcher shops, fishmonger, patisseries, and who could resist the aroma of the handmade chocolate shops?  As well, there's any number of cafes and restaurants catering to all tastes and budgets.  Yet rue
Mouffetard also has other attractions such as small boutiques, bookshops, an organic food and natural therapies shop, two supermarkets, pharmacy, a dry cleaner,  and lots of other useful businesses.
We have had the most wonderful time in your rue. No-one could actually ever explain the amazing life-force that powers Mouffetard–the sights, the smells, and the people. What an inspired choice of venue in Paris. We love it!
Peter and Carolyn.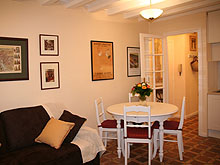 The apartment is situated in a building constructed in 1650.  Although the apartment is on the first floor there's also an elevator, making it easy to manage luggage and shopping.  One of the outstanding features of the apartment is its enormous outdoor terrace overlooking a leafy garden at the rear—a rarity indeed in Paris.  The perfect haven to relax with a drink after a busy day's activities, enjoy breakfast, or a long languid lunch.
"Staying in the apartment has significantly added to our enjoyment of Paris. You can be very proud of your renovations. It has been a long time since we have felt so comfortable in a vacation apartment while overseas. On several occasions when we reached our 'fatigue level' whilst walking the sights of Paris, either Val or I would say "let's go home". It was a genuine reaction to what you have provided." 
Leon and Val.
"Thank you so much for all your advice and suggestions for our stay in Paris. We had a wonderful time here and your apartment was a real oasis for us."
Irene.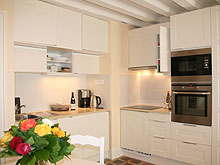 Le Gourmand du Mouffetard has been renovated to a high standard of finish and luxury furnishings.  The open plan living room has two double-glazed windows overlooking the street.  Elegantly furnished with a state-of-the-art sofa bed capable of comfortably sleeping two people, the living room also has a couple of easy chairs, a wall unit housing the TV and DVD player, plus plenty of books and tourist guides to enjoy during your stay.  The living room also has its own wardrobe for guests using the sofa bed, plus a dining table and chairs to seat four.
Every day can be a new gastronomic experience.  The well-equipped kitchen means you can explore the incredible variety of wonderful gourmet goodies on offer every day in rue Mouffetard.  Start your day with fresh croissants and baguettes still warm from the patisserie, while you could easily while away many happy hours perusing the huge selection of ready-to-cook food for dinner.  You'll have all the appliances, utensils, crockery, serving plates and glassware that you'll need including four-burner cook top, a conventional oven as well as a separate microwave, refrigerator and dishwasher, plus a combined clothes washer/dryer.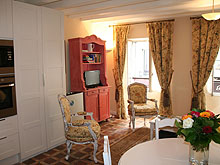 The separate bedroom is at the rear, with French doors that access the terrace.  The large queen-sized bed can be separated to become two twin beds.  The bedroom also has its own TV and computer work desk, and a wardrobe with plenty of coat-hangers.  The beds and sofa-bed all have luxury high thread-count bed linen and plenty of pillows.

The bathroom is accessible separately to both the occupants of the bedroom and the living room sofa bed—i.e., not an en-suite.  It has a good quality shower over the tub, vanity basin, toilet, heated towel rail, hairdryer, bath soaps, and well supplied with bath towels and hand towels.
A major highlight of the apartment is the free WiFi, cable TV with a huge selection including English language channels, but most importantly, FREE local and international telephone calls to land lines.  This offers a huge advantage over hotels, who still charge outrageous rates for phone calls.
Attractions on your door step include:
The whole of central Paris…
The Seine, Notre Dame, Ste Chapelle, and Ile St Louis; St Germain des Prés; Museums including the Louvre, Cluny and Quai D'Orsay; the Jardin des Plantes, the Luxembourg Gardens and the Pantheon.