Location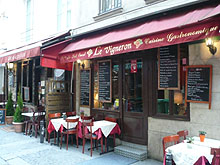 We discovered the rue Mouffetard area about 30 years ago. This was not on our first trip to Paris—on that memorable occasion we were too busy doing all the usual tourist things: Eiffel Tower, Champs Elysees, Notre Dame, Louvre etc. and had no time left to merely wander the streets and discover genuine neighbourhoods where the "real" Parisians live. It took several visits for us to discover Place Monge and streets like rue Mouffetard, some of the delightful surprises awaiting the visitor who returns, like us, time and again to dig a little deeper and explore the multi-layered City of Light and unearth its less obvious treasures.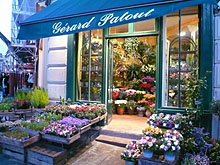 Many thanks for letting me enjoy the other side of Paris–such a fascinating area–you want for nothing in rue Mouffetard. It has been so relaxing to enjoy your beautiful apartment. Congratulations.
Robyn
For it is a "genuine" neighbourhood, peopled with families, young professionals, students, including a good sprinkling of older people who have lived here all their lives in ancient buildings that line the narrow medieval streets and passages. Any time of the day or evening you'll see locals sitting in cafes, or passing the time of day with a friendly shopkeeper, buying their daily necessities in any one of the wonderful food shops that they take for granted, but which make the visitor pause with wonder and delight at the abundance, quality and freshness.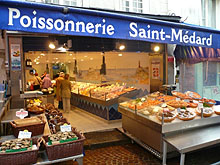 What a fabulous apartment you have, thank you so much for sharing it with us. We felt very special to be staying there. Rue Mouffetard is such a fantastic location – our stay was far too short of course. Next time we will stay for a full two weeks. We were so fortunate that our French friends from the south west could join us for a few days. Olwyn and Terry.
It is this lively mix of people, cafes, restaurants and fresh food shops and markets that makes Place Monge and rue Mouffetard the vibrant neighbourhood full of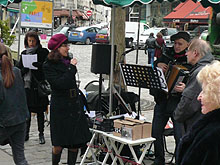 character and charm that it is all year round. First time visitors to the Place Monge markets and the shops in rue Mouffetard feel as though they've finally discovered the "real" Paris, beyond the famous monuments, and those lucky enough to rent a vacation apartment will truly feel they're living just a like a local, not simply a tourist. Regulars know this, and many return, year after year, to experience once again the neighbourhood they've come to know and love, and simply resume "la fantaisie Parisienne" just where they left it.