Local Food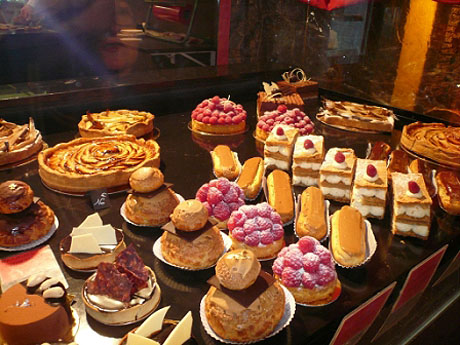 Rue Mouffetard forms the heart of a lively neighbourhood, beloved by Parisians for its excellent food and village ambience.
The neighbourhood is food heaven: famous in the city for the quality and variety of its specialty cheese shops, wine shops, gourmet butcheries, fishmongers, patisseries — and who could resist the aroma of handmade chocolates, or the best ice cream parlour in Paris?
There's any number of cafes and restaurants, catering to all tastes and budgets, within a five minute stroll.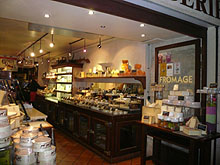 The apartment is just around the corner from Place Monge, where a famous outdoor market is held three mornings a week—Parisians come from all over the city to the Sunday market for wonderful fresh produce.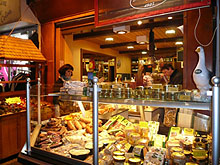 "Rue Mouffetard – what a place to have an apartment. The food shopping is fantastic. Unfortunately 6 days were not enough to more than scratch the surface of this incredible local community. It begs another visit."
Geoff and Lee.
"Loved every minute of our stay – one week was not enough! Definitely returning. Nice to have a home away from home and such comfort, we felt really spoilt after having travelled through Africa and Europe for three months. We were still discovering new shops in our rue Mouffetard, even after at least 20 walks up and down. A gem of a street."
Julie and Michael.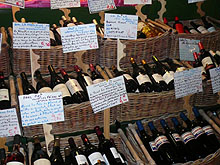 Every day can be a new gastronomic experience. The well-equipped kitchen means you can explore the incredible variety of delicious gourmet goodies on offer daily in rue Mouffetard. Start your day with fresh croissants and baguettes still warm from the patisserie, then while away many happy hours chatting to the local merchants and selecting from a huge variety of ready-to-cook foods.
Rue Mouffetard also has other attractions such as small boutiques, bookshops, an organic food and natural therapies shop, flower shops, two supermarkets, English-speaking pharmacy, a dry cleaner, branches of both L'Occitane and Oliviers & Co., hairdressers, and lots of other useful businesses.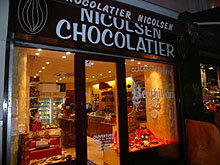 "It is our 5th night staying in Le Gourmand du Mouffetard and we have retired to the tranquility of the terrace – with a bottle of excellent French red wine. As we sit under a fading blue sky we are contemplating this remarkable city and feel fortunate that we have been able to discover it once more. Rue Mouffetard has not disappointed. It has given us a taste of Paris (excuse the pun) that we have not experienced before. Your (our) apartment has been a most perfect spot to explore all that it has to offer. You have done a wonderful job of renovating the apartment."
Robert and Denise